Rates & Services
Expert mechanical service
Service schedule
We offer to assess your bike for free, on the spot. This ensures you get custom tailored service for your specific needs. No need to make an appointment to bring the bike down. We'll work with you to decide what repairs are needed. If there is a wait for repair, we also offer expedited service.
Jump the Queue. If the wait for repair is keeping you off your bike for longer than you would like, this fee will ensure we will make time for it within the next 14 days. $15
Lickety Split. Race this weekend? Heading out to the lake and it can't be delayed? This service will get you back on the road within the next 7 days. $25
Same Day Major. For repairs that cannot wait. If your touring schedule is as rigid as your fork… This service will allow us to fix your bike as soon as humanly possible. $40
Bike Rental. If the repair schedule doesn't meet your needs, we offer bike rental at a reduced rate for our customers. If you have a bike in for repair, enjoy 50% off the regular rental fee.
Tune-up rates

Complementary services
Take advantage of Natural Cycle's decades of collective riding and wrenching experience by asking our advice. We also offer intensive instruction as a part of the hands-on mechanical training through our classes.
Inspections

Estimates

Insurance quotes

Bike sizing & fitting

Air and chain lube

Chain tensioning and lube
Specialty mechanical work
Custom bikes for everyone
Why not get a bike that fits you? Natural Cycle offers no labour rates for complete bike builds, in order to remove one more obstacle from you finally getting the bike of your dreams.
Wheel system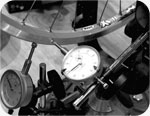 Repair and trueing
Natural Cycle specializes in wheel building – link to wheel building page- the advanced tooling and knowledge we have developed of the spoked wheel also allows us to be able to repair wheels which less experienced mechanics would give up on. In other words, we can make your wheels last as long as possible.
Basic trueing

$20-$35


(spoke tensioning and rim alignment, depending on the severity)
Building
Hand built wheels are the ultimate upgrade to any bike.
We will build the wheel for free when you buy the hub, spokes, and rim. Great deal!
Hubs
Wheel bearings are the most used bearings on the bike. Remember, yearly rebuilds are crucial for open cup bearings, especially if you use your bike every day.
Natural Cycle is well equipped to handle any wheel bearing overhauls, even on exotic hubs. We have the tools to service thousands of hubs from many manufacturers (such as Campagnolo, Chris King, Rohloff, Shimano, and many more) hubs with both sealed cartridge and open cup bearings. If we don't have the tool to service your bike, we will get it, or make it.
Overhaul

$25


(disassembly, cleaning, reassembly and adjustment, new ball-bearings included)

Adjustment

$10


(adjustment of the cones, tightening of the jam nuts)
Tyres
Keeping air in your tyres, keeps you on the road and rolling with as little effort as possible. Air is always free at Natural Cycle.
Remove and install tyre and tube

$10 (plus parts)

Remove and install tyre and tube on a coaster, drum, or internally geared hub

$15 (plus parts)
Drive system
Pedals
Remove and install pedal

$10

Overhaul one cartridge bearing pedal

$20

Extract seized pedals and replace

 $13 add-on

Chain
Adjust chain tension

$0

Lube chain$0

Install or replace chain

$10

Install or replace chain with chaincase

$25
Crank
Remove and install crank and pedal

$10

Extract one stripped crank, install new

$13 add-on


Install Helicoil on one crank with stripped pedal threads (this saves your crank!)

$35
Rear Cogset
Install cogset

$5

Remove and install cogset

$10

Remove seized cogset

$13 add-on


Replace cassette freehub body

$30


(includes hub overhaul, parts extra)

Singlespeed conversion

$35


(Remove shifters and derailleurs, install chain, replace freewheel)
Chainrings
Bottom bracket
Open cup adjustment

$13

Install sealed unit

$10

Remove and replace bottom bracket

$25

Frame bottom bracket shell facing

$25

Frame bottom bracket shell thread chasing

$20

Seized Bottom bracket

$13 add-on

Use cutting tools to remove bottom bracket cup

$40


(add-on to 'remove and replace bottom bracket')
Cleaning
Clean chain, crank and ring, rear cog (Singlespeed)

$10

Clean chain, crank and rings, rear cog, derailleurs (Multispeed)

$20
Brake system
Adjust brake centering, pad alignment, and barrel adjusters

$15
Remove and install new cables and housing

$22


(Rim brake. Includes Adjustment)
Hydraulic Brake Bleed $30 parts extra


Pivot overhaul

$10


(Add on to any Adjustment or Overhaul)

Cleaning of the braking surface on one wheel

$5
Steering system
Headset
Adjustment

$7

Overhaul bearings

$32

Press in headset cups &install crown race

$10

Headtube reaming and facing

$40

Replace headset, cut fork, mount star nut or clean threads

$40
Fork
Mount star nut

$7

Cut fork and Camfer edge

$15

Cut more threads on threaded fork

$30
Stem
Raise, lower or center stem

$0

Replace threadless stem

$13

Replace threaded stem

$7

Remove seized stem

$13


(Add on to any stem replacement if needed)
Handlebar
Install handlebar

$15

Cut handlebars shorter

 

$15

Install bar tape

$15
Multi-gear system
Adjustments
Adjust internal hub barrel adjusters and clickbox

$15

Adjust limit screws, barrel adjusters, and alignment

$15
Overhauls
Remove and install new cables and housing

$20


(Friction shifting, includes adjustment)

Remove and install new cables and housing

$25


(Indexed shifting,includes adjustment)
Frame system
Bottom bracket
Bottom bracket shell facing

$25

Bottom bracket shell frame thread chasing

$20
Alignment
Bike frame fitting

$0

Align frame (Without removing bottom bracket)

$20
Cutting
Head tube reaming and facing

$40

Seat tube reaming

$35
Powdercoating
We recommend getting your frame painted by Paul, at Villain Motorsports.
If you need help taking it apart or putting it back together, give us a shout.
Butt support system
Install seatpost and/or saddle

$5

Cut seatpost shorter

$10

Remove seatpost with pulling tools

$35

Remove seatpost with cutting tools

$60

Frame, seat tube reaming

$35
Accessories system
Install fenders (Single point mount)

$10

Install fenders (multi point mount)

$15

Instal custom fenders $30

Install lock bracket or light clamp

$8

Install Rack/basket

$15