Classes
Bicycle mechanics and more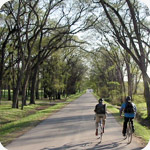 As Natural Cycle focuses on the bicycle as a form of transportation rather than just recreation, our workers offer a beacon of light in an industry which tends to hold fashion over logic, and dollars over sense. One of Natural Cycle's goals is to help you learn more about your bike, so you can develop your skills and make your life a bit more sustainable. We want to help foster a vibrant community of cyclists in Winnipeg and beyond.
Bicycle Repair Course
This for anyone who has little or no experience with bicycle technology. General mechanical knowledge is helpful, but not required. In each class one section of the bicycle is covered. These include: wheel system, brake system, steering system, multi-gear system, drive system, and frame system.
The classes try to be as hands-on as possible. Each student has their own stand and you are encouraged to bring your OWN BIKE! We start with a brief introduction at the beginning of class, then get to work on that system on the bike you bring. Each class comes with a handout of useful info. There is a student teacher ratio of 1:4. Students will receive 15% off tools.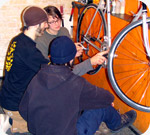 The goal of the course is to be able to do all minor and most major repairs on your bicycle. Natural Cycle also tries to educate the students to be more confident and knowledgeable consumers when it comes to buying a new bike or replacing parts.
In the workshop all different types of bicycles, bicycle tools and bicycle systems are covered so you will have a better understanding of the components of the bicycle.
The course fee is $189 tax incl. We offer workshops during a single session: After the winter holidays, before spring. The course runs for 6 weeks.
Classes for 2017 will run on Tuesday or Thursday from 7pm-930pm.
Tuesday class dates: Feb 14, 21, 28, Mar 7, 14, 21.
Thursday class dates: Feb 16, 23, Mar 2, 9, 16, 23
Sign up by dropping us an email or give us a ring at 204-957-5762
Wheel Building
We'll help you pick out the components, and instruct you to build it step by step. The course will cover: choosing the components, preparing the materials, lacing patterns, and tensioning and truing the wheel. Use the same professional grade equipment we build with. The teacher/student ratio is 1:2.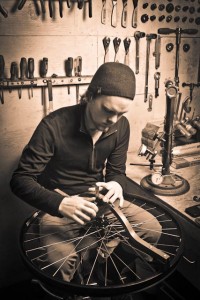 Course fee is $75 tax incl. plus parts. Students receive 15% off tools and wheel components. If you don't end up finishing in the time allotted, we'll finish it for you.
It is a one day course, which runs 9am-3pm on Saturdays.
Sign up by emailing the instructor, Andrew.